A pioneer that continues striving to create new technologies for coatings that are easier on people and the nature
Sowing future business seeds while constantly meeting market needs, DNT's Research and Development Department engages in a wide range of activities that focus on developing technologies to satisfy needs and developing base materials for business seeds. Its activities include basic research in the fields of coatings and related technologies, product development, and technical services.
Nurturing dreams and cultivating needs
The research section carries out basic studies common to coatings in the fields of analysis and physical property, paint and anti-corrosion theories, functional polymer material design, and coat film formation and coating technologies.
In the field for developing new materials and new functional materials, it conducts research on cutting-edge technologies for controlling the surface and interface of nanomaterials. Through its research, the section continues striving to tackle new areas.
The development section aims to provide customers in different sectors with original products that satisfy them. It actively works on the in-depth analysis of market needs and on the design, development, and market introduction of new products that resolve technical issues concerning quality and functions, while at the same time meeting the demands of society for preserving the environment and conserving resources.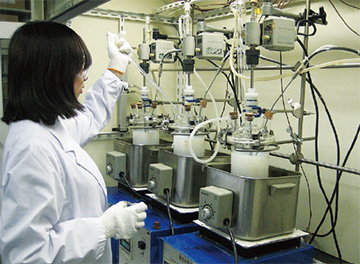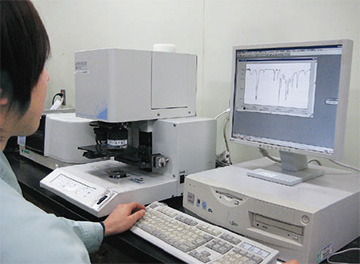 Development of environmentally friendly coatings and proprietary coating technologies
Environmentally friendly coatings represent some of the major achievements of our research and development activities. Created by minimizing the amount of volatile organic compounds (VOCs) used, our water-based paints and powder paints have already built up a significant track record. Eliminating the need for dilution with an organic solvent, they help ensure safety, improve the work environment, and reduce the consumption of oil resources. We have also created many different environmentally friendly coatings, including those free of metals hazardous to humans, and low solvent paints. In addition, we have created coatings with enhanced durability, and have established coating specifications for the long-term protection of marine structures, bridges, radio towers and other steel structures from corrosion, thereby helping to prolong the recoating cycle and reduce the life cycle cost (LCC) of these structures. These specifications have decreased the number of times of these structures need to be recoated during their expected service life, lowered the LCC, and minimized VOC consumption and industrial waste.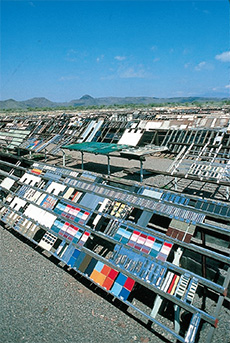 Endeavoring to create new materials and new functional materials
We aim to enter new businesses. In regards to materials and new functional materials, we combine the technical expertise we have cultivated with new materials and technologies in an effort to develop materials in the fields of electronic materials and biotechnology.
Example of Functional Materials
Rod-shaped metal nanoparticles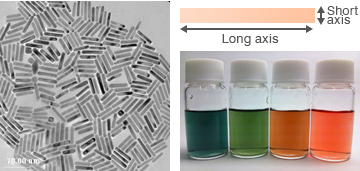 * Absorption wavelength changes according to the ratio of the long axis and the short axis.
(Left: TEM picture, Right: Aqueous dispersion)
Plate-shaped silver nanoparticles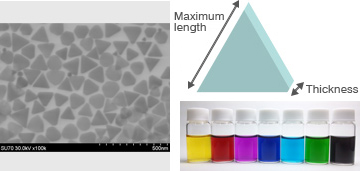 * Absorption wavelength changes according to the ratio of the maximum length and thickness.
(Left: TEM picture, Right: Aqueous dispersion)
Application to intellectual properties
DNT has obtained more than 400 patents on new materials and technologies, including those acquired outside Japan, through its research and development activities. These intellectual properties serve as the foundation for our global business. Taking environmental considerations into account while constantly anticipating future needs, we are actively working to develop and propose highly functional, high value-added coatings and new coating systems.