DNT regards environmentally friendly technologies and technologies that enrich society as identical. As we wish to support many people's smiles through our coatings, we will create products that are valuable to customers and society based on our concept of Green and Clean.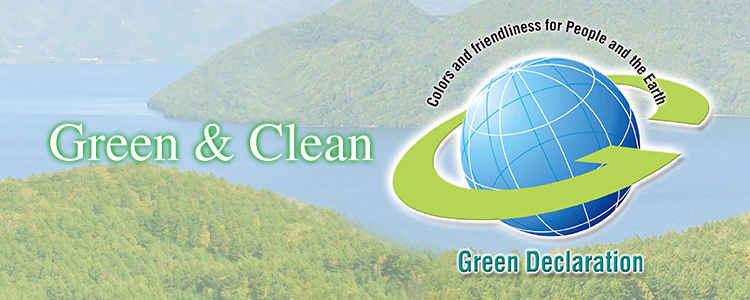 Green as a Color of Freshness, Hope, Safety and Reassurance
DNT has adopted green as its corporate color to produce a large number of environmentally friendly coatings such as volatile organic compound (VOC)-free coatings, products that are free of lead and chromium and those without toluene and xylene. We declare that we will continue to undertake corporate activities that contribute to building an environment that is friendly to Earth and to humans.
Responsible Care
Based on the principles of Sustainable Development, we give consideration to environmental preservation and to human safety and health in all processes including product development, manufacturing, distribution, use and ultimate consumption as well as in all activities we engage in, in an effort to show responsibility and secure trus.
Concept
Manufacturing of Products that are Friendly to the Environment and to Humans
In all our business activities, we will deepen our awareness of the global environment and offer products that reflect our consideration for resource conservation, energy conservation, product safety and environmental conservation.
Production Activities with Safety and with Limited Waste Emissions
We strive for environmental conservation in operations and for safety and health to reduce energy consumption and waste and carbon dioxide emissions.
Building Employees' Awareness to Implement (Companywide) Corporate Activities
We will raise all employees' awareness of global environmental issues to implement (companywide) corporate activities.
Action Plan